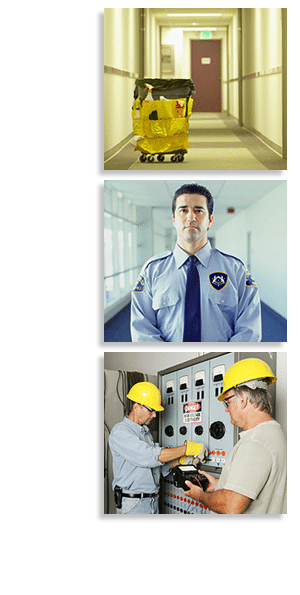 Ritz Property Maintenance
At the Ritz Companies, our mission is to be the leading provider of your commercial janitorial solutions. For over 30 years, we have approached potential projects and assignments by determining how we can bring our clients more value. We are a quality-oriented commercial property janitorial company, that serves our customers in a professional and efficient manner.
We customize our programs to meet your specific needs and have the experience to execute with our employees. No matter what your maintenance needs are, you can be confident that you will receive the same consistent, quality performance that we are known for throughout the industry.
Different sectors and business types require distinct cleaning methods based on the facility. At Ritz, we have the background and expertise to pinpoint the best solution for your specific type of. We care about your property, your employees and the environment. You have the option of selecting "green" products to service your facility as well.

Wide Variety of Markets
Industries
Corporate/Commercial
Manufacturing Plants
Education
Retail Stores & Centers
Government
Financial Institutions
Public Venues
Services
Commercial Building Janitorial Service
Individual Office Janitorial
Construction Clean Up
Operations and Maintenance
Landscaping
Lightening
Sweeping & Vacuuming
Wet & Dry Mopping
Secure Trash Removal
Restroom Sanitizing
Restroom Replenishment
Kitchen & Break Room Cleaning
Dusting and Blind Cleaning
Walls, Ceilings & Baseboards
Glass
Routine Carpet Cleaning
Carpet Spot Cleaning
Carpet Extraction Cleaning
Scrub & Recoat Hard Floor
Routine Buffing
Move-Out Move-In Cleaning
Post Construction Cleaning
Special Requests
The Ritz Companies delivers maintenance services efficiently, effectively and professionally. Choose stand-alone offerings or bundle packages tailored to your company's specific facilities maintenance needs and budget.
"We have established reputation for rendering exceptional service."