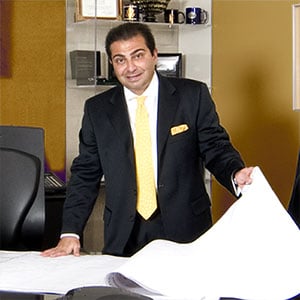 Robert Ritz Sadeghi
(CEO/Founder)
"Longevity and stability is attained by being exceptional. When our partners succeed, then we have succeeded along with them." – Robert Ritz Sadeghi
Robert drives the direction of the company with his exceptional knowledge of the industry for over three decades. He leads with integrity, cultivating people and creating new opportunities and continuously expanding and diversifying the company.
From a young age, Robert was exposed to this realm through the family business. He was able use that knowledge, along with his education to grow his passion into a successful business. The company initially started with Ritz Construction & Property Maintenance, yet after a number of profitable ventures Robert has been able to see it flourish into all avenues of the real estate market – domestically and internationally.
He has surrounded himself with a talented team and together they have built Ritz Companies to be one of the solid players in the real estate realm. Each member has a rich background in their specialty and share the philosophy that Robert has nurtured into the company culture. Client partnerships is also a part of that philosophy and therefore the relationships are continuous through a number of years. They know they he stands for a quality resource that they can turn to with their projects – whether they are small or large.