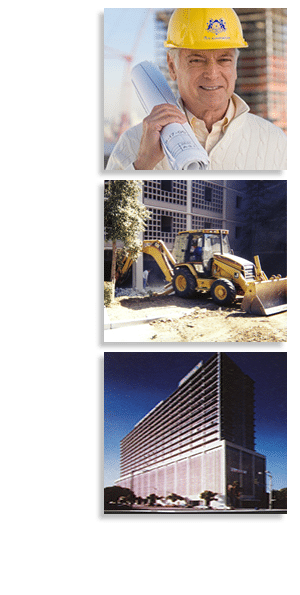 Ritz Construction
Our commercial construction company headquarter in Irvine, California –  has served the industry since 1986. Instead of jumping right into each project, we take the time to sit down and talk to each client in an effort to understand exactly what they're wanting. We'll evaluate, assemble and lead a team of construction professionals to meet your project's unique needs. Our project managers, job superintendents and subcontractors work closely with one another, and with you, to balance even the most complex designs, schedules and budgets.
The demands of today's dynamic marketplace create ever-evolving facility needs: expansions, relocations, tenant improvements and new facilities. Ritz Construction's project delivery services provide the one-source solution to meet these needs from project conception through project delivery – allowing our clients to focus on their own businesses in the process.
At the Ritz Companies, we believe that you only have one chance to get things done the right way, so we make sure that we have all of the information that we need. You'll benefit from our in-depth experience locating and evaluating sites, creating budgets and timelines, and carrying out complex construction and management tasks.
We also add our expert knowledge and experience into each design, therefore our clients are given the best possible finished product. You'll find that we strive to deliver innovative, cost-effective results that surpass your expectations. Every step of the way, you can expect from us quality craftsmanship and seamless service,  Always delivered on time and within your budget.
Our commercial sector is not limited to any particular size of project. We build relationships and that alone, allows us to be the person you turn to for all your tenant improvement and commercial construction needs.
Ritz Construction stands out in the field of construction for its commitment to provide its client's the goal and vision that they desire. Our main ingredient for success is listening to what you want and then delivering that to you in a cost efficient and timely manner. We are your advocate every step of the way. We create a team collaborative team environment among the owner, architect, tenant, and contracting firms in order to attain the best result.
Partial List of Projects
Marriot Courtyard Hotel, San Diego, CA Three story, 141 ROOMS,
Alpha Beta Supermarket, Riverside, CA 35,000 S.F. grocery store.
Old Towne Mall, Torrance, CA 30,000 S.F. interior renovation of existing mall.
Thrifty Drug & Discount Store, Riverside, CA 8,000 S.F. drug store.
Peter's Landing, Huntington Beach, CA 66,000 S.F. two story retail and office complex.
Red Onion Restaurant, Huntington Beach, CA 15,000 S.F. two story restaurant and bar.
Restaurant B, Huntington Beach, CA 15,000 S.F. two story shell restaurant building.
Action Technology, Inc, Anaheim, CA 25,000 S.F. one story build to suit corporate headquarters and manufacturing facility.
Holstein Industries, Inc., Irvine, CA 27,369 S.F. two-story build to suit corporate headquarters.
Computer Consoles, Inc, Irvine, CA 150,000 S.F. two story build to suite corporate headquarters and computer manufacturing facility including an underground eutectic salt cooling storage system.
Armorall Corporate Headquarters, Laguna Hills, CA 45,000 S.F. two story corporate headquarters building.
Park Ridge Elementary School, Ft. Lauderdale, FL 46,100 S.F. fully improved school with cafeteria and athletic field.
Oriole Elementary School, Pompano Beach, FL 46,200 S.F. fully improved school with cafeteria an athletic field.
Miami Dade Parking Garage, Miami, FL 260,000 S.F. five story, 547 car municipal parking facility.
5300 Busch Park, Salt Lake City, UT 48,000 S.F. two story office building complex
Cotner Plaza Office Building, Santa Monica, CA 167,000 S.F., nine story building with six levels of subterranean parking, providing renovation and completion of the final 15% for the LA Superior Court.
Tri City Garden Offices, San Bernardino, CA 109,300 S.F. two story building complex
T&S Industrial Center, Buena Park, CA 41,000 S.F. three R&D office/manufacturing building complex including interior improvements.
Anaheim Business Center, Anaheim, CA 94,770 S.F. eleven one and two story R&D office/manufacturing office building complex with tenant improvements.
Canyon Crest Towne Center, Riverside, CA 245,000 S.F. retail and office complex
Southern Bell Telephone, Hollywood, CA 7,000 S.F. two story equipment switching station addition.
LA Olympic Shooting Venue, Chino, CA 35 acre site providing Olympic ranges and buildings for trap, skeet, pistol and rifle competitions.
Hughes Aircraft Headquarters – Los Angeles, CA (Mid rise) – One million square foot corporate headquarters with three levels of subterranean parking.
Fox Network Center "Earth Station" – Los Angeles, CA (Satellite) – "Brains" for the Fox Network television Station. Consists of five 35 meter satellite dishes and one 45 meter simostat dish which keep in constant communication with the satellites orbiting the earth.
Printzone – Irvine, CA (Tilt Up Commercial)
A 5,000 sq ft office and factory space requiring substantial electrical work to fit the needs of the business. The necessity for the space to be multifunctional was achieved in a visually aesthetic, yet functional manner.
Save A Lot – Barstow CA (Retail)
A 14,000 sq ft chain supermarket project which required managing a large number of trades in order to fulfill the needs of the client, the chain, and the city. This was originally an empty shell that we did extensive work on to create a full force supermarket facility passing all city inspections and requirements.
Kiddie Academy – Irvine, CA (Academics)
A 45,000 sq ft facility, that was originally a commercial factory, which needed to be transformed into an academic environment. We renovated the shell and the entire interior was demolished and remodeled. Due to the nature of the business, it was vital that all the specifications were adhered to strongly.Ampronix –
It's A Grind –  Los Angeles, CA (Retail/Coffee Shop)
Chain coffee stores with a flare of modernity. Took shell spaces and created stores per specifications that were required by the chain. Therefore, merging the owners needs, the space limitations, and the chain's requirements to produce the perfect coffee shop.
Love Sac – Riverside, CA (Retail)
A retail facility located in a shopping mall. In a short time span, assisted the client in renovating a small space to fit her current needs and clientele. The mall is owned by the well-known General Growth Properties and therefore preliminary review of qualifications was required in order to be able to even bid on the project.
4G Verizon Wireless – Multiple Locations (Retail)
Created multiple Verizon stores throughout Southern California to fit the current tenant and new subtenant needs. We provided a turnkey A-Z service for the client starting from providing the architect and permits.
Caruso Affiliated Holdings Corporate Office, Los Angeles, CA – 62,000SF tenant improvements with high end finishes including granite, marble and millwork and meeting aggressive Owner milestone schedule.
International Cinematographers Guild, Los Angeles, CA – Renovation of Shell and entire interior demolition and remodel of 18,000SF office building. Work included plastering exterior, new window system, design/build of MEP, value engineering and coordination with Owner's vendors.
Harman International Business Campus, Northridge CA – 3 story, 135,000SF concrete tilt-up and steel framed office building. Included demolition of 3 buildings damaged during the Northridge earthquake. Site improvements included new grand entrance and parking lot modifications as this building became the focal point of the business campus environment.
Crown Cabot Financial Center, Laguna Niguel, CA – 20,000SF replacement of slab on grade parking structure and several tenant improvements. Requirements included performing work in stages and without disruption of adjacent tenants.
Grand Avenue Plaza, El Segundo, CA – Remodel shell and core of two 3 – story 50,000SF structures, including demolition of existing interiors and tenant improvements of both buildings. Work included removal and replacement of four 50 – ton roof top H.V.A.C units, removal and replacement of roof, new restrooms, lobbies and elevator upgrades.
Arden Realty, Inc. 16000 Ventura Blvd., Encino, CA
Landmark Education, 5200 West Century Blvd. – 2nd Floor, Los Angeles, CA 15,000 SF of Tenant Improvements including Classrooms
Berkhamer-Clayton, 221. S. Figueroa #204, Los Angeles, CA
Howard Hughes Center, 6700 Center Drive West, Los Angeles, CA
Westwood Center, 1100 Glendon, Los Angeles, CA
Orange Financial Center, 701 S. Parker Street, Orange, CA
Arden Realty, Inc., 1821 E. Dyer Road, Santa Ana, CA
AHT, 1900 Grand Avenue, El Segundo, CA – 25,000 SF T.I.
Continental Cable, 1970 Grand Avenue, El Segundo, CA – 13,000 SF TI
Frontier Communications, 1970 E. Grand Avenue – 1st Floor, El Segundo, CA
Summit Commercial, 1970 E. Grand Avenue, El Segundo, CA – 13,000 SF T.I.
Nitto America, 1950 Sawtelle #305, Los Angeles, CA – 4,000 SF T.I.
Solender Group, 1950 Sawtelle #303, Los Angeles, CA – 6,000 sf T.I.
Arden Realty, Inc. 1950 Sawtelle #200/215/280/320, Los Angeles, CA
Arden Realty, Inc., 70 S. Lake Suite 750 & 770, Pasadena, CA
Whittier Financial Center, 15141 E. Whittier Blvd. #500, Whittier, CA – 15,000 SF T.I.
Heavenly Glory Bookstore, 300 Carlsbad Village Drive, Carlsbad, CA
CB Richard Ellis, Lapco Industrial Center, 3030 Susan Street, Santa Ana, CA
Mossimo, 1 Marconi, Irvine, CA
U.S. Army Corps of Engineers, 1840 Bell Richard Ave., Fort Polk Army Base, LA
Genuity Solutions, Inc., 770 L Street, Los Angeles, CA
Indymac Bank, 155 North Street, Pasadena, CA
Grand Avenue Plaza, Remodel shell and core of 2-3 story, 75,000 SF structures complete including demolition of existing lobby interiors and tenant improvements. Work included removal and replacement of four (4) 50 ton roof top HVAC units, new roof, new ADA restrooms, lobbies and elevator upgrades.
Construction for the Military
Due to our reputation of high quality workmanship and service, we have been chosen and awarded construction for our United States Military. The multiple projects range from all sizes – each one as important as the next.